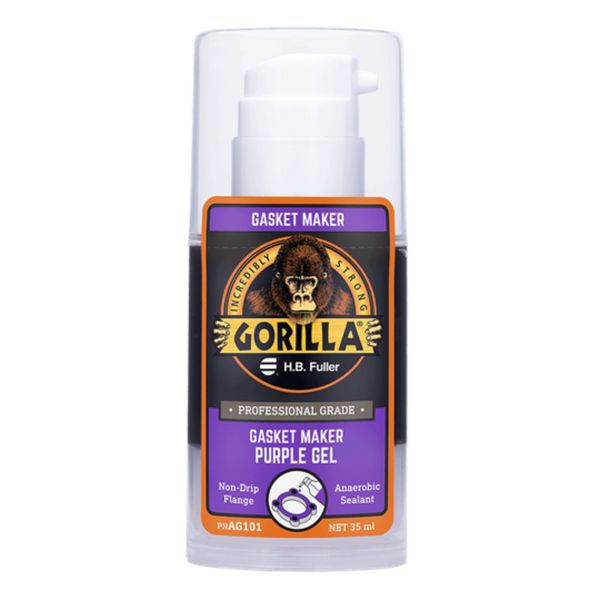 GorillaPro® AG101 is a single-component, anaerobic sealant which is used to seal close-fitting joints between rigid metal flange assemblies such as differential cases, transmissions, and oil pans. It provides resistance to low pressures immediately after assembly of flanges. AG101 offers superior chemical and heat resistance while maintaining flexibility for proper gasketing.

Features:

SECURE:

 

Suitable for applications with high levels of shock and vibration
CORROSION RESISTANT:

 

Prevents rust and corrosion that could jeopardize threaded areas
DURABLE:

 

Has excellent resistance to extremely harsh environments

 

Specs:

Product Color:

 

Purple
Product Strength:

 

Medium
Product Form:

 

Thixotropic Gel
Container Size:

 

35 ml Pump Bottle
Full Cure Time (Hours):

 

24 hours at 25°C
Service Temperature Range (F/C):  -65 to 300°F (-54 to 149°C)
Material Compatibility:

 

Fastest cure on active metals with metal ions such as iron and steel

 

Directions:

Remove all dirt and oil. Apply Anaerobic to mating surfaces and assemble parts. Handling strength will be achieved in 10 minutes to one hour.

99% of our orders ship by the next business day - many ship out the same day from our warehouse in Dallas, TX.  Shipping time will vary by your location.
10X Entries On All Orders
+ FREE SHIPPING ON ORDERS OVER $89
ENDS
IN:
Days
Hours
Minutes
Seconds